Savoring every sunset since 1998.
For over 24 years, Georgie's has been one of Newport's favorite spots to dine with a view. We offer a stunning, elevated atmosphere, authentic Northwest fare, an extensive kids' menu, and top-shelf cocktails, without feeling stuffy or exclusive.
Because Georgie's is family and employee-owned, every staff member has a shared goal to create the most remarkable experience possible for our guests: a warm reception, exceptional service, and an environment where everyone feels comfortable and welcome.
Our Menu
No Northwest menu would be complete without expertly prepared halibut, salmon, Yaquina Bay Oysters, and Dungeness crab, so we've got seafood lovers covered. Beyond that, you'll find a wildly varied menu with local favorites like our savory Diablo steak bites, a towering grass-fed burger, lots of vegetarian options, and a kids' menu to please even the pickiest palate.

Our Chef: Alfredo Betanzo
If anyone embodies the American Dream, it's our esteemed chef, Alfredo Betanzo.
At just 17, Alfredo began working at Georgie's as a dishwasher. Immediately after starting, he offered to help the prep cooks as a break from the monotony of his own job. It wasn't long before he was a prep cook himself, and over the years he apprenticed through the ranks until finally in 2011 he became Georgie's Executive Chef.
Since then, Alfredo has created something of an anomaly in most kitchens: collaboration. Line cooks, sous chefs, and front-of-house staff can come to him with ideas or feedback and always be heard.
"I don't have a 'signature dish' or any ego attached to anything I've created," he says. "We all have a stake in making something great for our guests, so we should all share the responsibility and credit."
And speaking of sharing, it's well known among Georgie's staff that Alfredo is always willing to share a recipe (except the Chowder, that one's a secret) if a customer loves a dish—yet another activity most chefs don't engage in. When asked why, he listed two reasons:
One, he knows that while the customer will be able to get close to the flavor of the dish, they'll always have to return to Georgie's for the real thing. Georgie's kitchen staff is diligently trained in cooking each dish to perfection every single time, and that's just not something you can duplicate at home.
And two, he only learned to create these dishes because the people around him were generous.
"I was lucky to have people who were willing to teach me," he says. "So I don't want to hide that knowledge from other people who want it. I want to share that happiness with as many people as possible."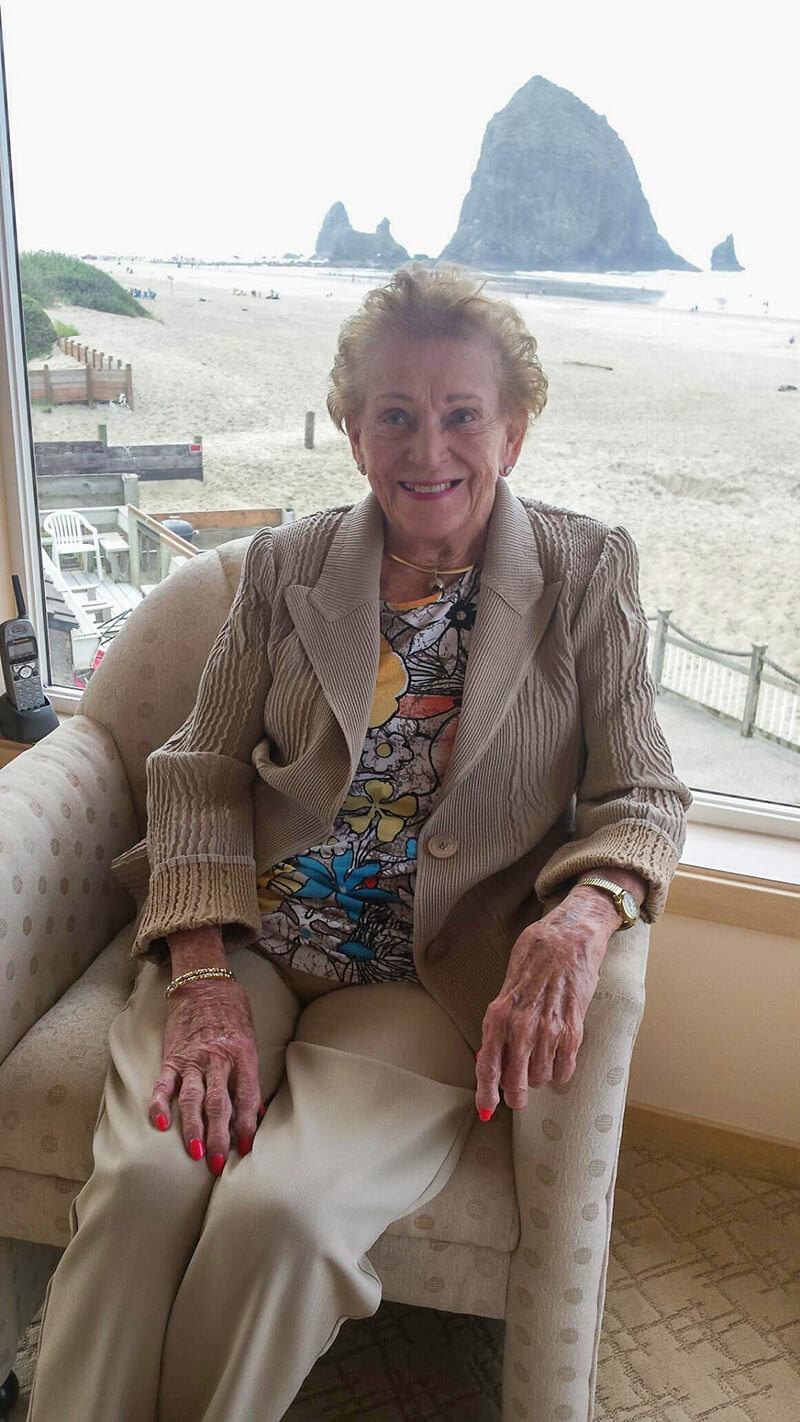 Who is Georgie?
Even some locals are unaware that Georgie's is named for the beloved matriarch of the Hay family—the folks who opened the first Hallmark Resort in Cannon Beach in 1948.
At the beginning of Hallmark's life, Georgie was a Jackie-of-all-trades—managing the reservations, cleaning the rooms, and handling the finances, all while raising three small children. As the company grew, Georgie and her husband Bill became philanthropists, donating acres of land to conservancy projects and thousands of dollars to arts and public service organizations in Cannon Beach and Newport. She also spent hours with Georgie's Executive Chef perfecting the Clam Chowder recipe.
Despite her extensive travels and many accomplishments, Georgie liked nothing better than visiting the guests and team members at her namesake restaurant.